Cristina Travel Incoming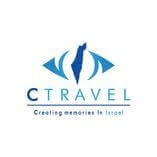 Cristina Travel Incoming
Cristina Travel is a boutique tour operator located in Haifa, Israel .Our work is with international market and specialized in Romania and Eastern Europe.
We provide you unique experience which will be tailored to your needs .Each day we will discover to you new ways to enrich your experience.
Our programs combined religious and historical sites with a look at modern Israel.
We provide also combined tours to Jordan and Egypt.
Together will create the best memories from Israel.
Additional Info
Telephone : 97248320291+
Additional phone : 972506404326+
Fax : 9728146385+
Contact Person : cristina amariei
Website : www.cristinatravel.com
Email : office@cristinatravel.com