George Garabedian Co. LTD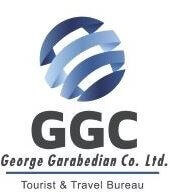 George Garabedian Co. LTD
An internationally renowned pioneer and leader in the Christian travel market for over 85 years. We're a family-owned business with a single specialty – providing personalized faith-based journeys in the Holy Land. We approach all our programs as biblical adventures that celebrate the life of Jesus, using the countless holy sites unique to this land as a backdrop to inspire our clients in their quest for spiritual growth.
GGC has grown over the years to be one of the leading tour operators in the Holy Land with a multi-lingual and experienced staff, we serve clients and tour operators from around the world focusing on religious and general sightseeing groups and individuals as well as business travelers.
The GGC Group consists of:
George Garabedian Tourist and Travel Bureau ( Branch office in Haifa)
The GGC Tourist Transport, a tourist bus company with 15 modern large buses, one mini bus, and two vans.
The Christmas Hotel, a four star boutique hotel of 35 rooms in Jerusalem in walking distance to the Old City.
Additional Info
Telephone : 972-2-6283398
Fax : 972-2-6287896
Website : www.ggc-jer.com
Email : info@ggc-jer.com