IDC – Israel Diamond Center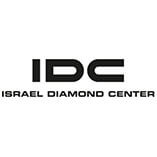 IDC – Israel Diamond Center
IDC – Israel Diamond Center  has more than 50 years of experience in diamond polishing, trading and jewelry design. Located at the heart of Israel's diamond trading center in Ramat Gan, the company operates one of the largest diamond and jewelry showrooms of its kind in Israel, providing customers a significant cost benefit of buying directly from the source.
IDC produces and offers every style of jewelry ranging from those valued at a few hundred to several million dollars.
IDC is involved in all aspects of the diamond industry, including the trade of rough stones, diamond cutting and polishing through a partnership with a respected factory.
All IDC products are accompanied by a quality certificate from one of the leading grading laboratories – GIA / EGL / HRD, per customer request – complete with a photograph and specifications. The company is backed by the Israel Institution of Standards seal and has a worldwide reputation for its exacting quality standards.
The company also complies with the Kimberley Process standards, ensuring that only conflict-free diamonds are used in its jewelry.
IDC employs professional jewelers, designers, gemologists and sales people to ensure the highest levels of quality and service in the industry. All aspects of the production process take place under one roof, from cutting and polishing to jewelry production and ongoing customer service. Customers can even watch as the stone placed in the setting he or she has selected from the vast inventory or personally designed. IDC is so confident in its workmanship that it guarantees all aspects of its work: the stone and the setting.
Additional Info
Telephone : +972-3-5757979
Fax : +972-3-7522333
Contact Person : Akiva Levin
Website : http://www.idc-diamond.com/